The Knowledge Hub (KH) is an online platform connecting the public health workforce to relevant, high quality continuing professional development (CPD) opportunities and resources. To provide excellent health care to patients, healthcare professionals need to improve their skills and performance, as well as to implement strategies to develop effective managers and health practitioners. Through the KH, they can:
Access curated and effective professional development opportunities and resources, including online and blended-learning courses, face-to-face workshops, self-study resources, policies, guidelines and reference materials;
Access an eLibrary of curated legislation, policies, guidelines, standard operating procedures (SOPs), reference materials, and best practices (without having to log into the system);
Customize their experience based on their job profile and needs and making the information more specific and relevant.
The KH supports learning delivery either entirely online (e-learning) or combined with traditional face-to-face delivery (blended learning). The intention is to build a 'one-stop-shop' through which healthcare professionals can locate and access both mandatory training opportunities implemented by South African National Department of Health and a wider catalogue of recommended, approved CPD opportunities and resources that can help them do their jobs more easily and effectively.  
Below are some key projects that the NBA team has implemented with the NDoH:
KH is central to the NDoH's communication strategy and access to the latest processes, procedures and guidelines to the nation's response to the COVID-19 crisis. We have successfully hosted medical webinars with over 300 000 attendance . The KH attracts over 100 000 visitors on average a month.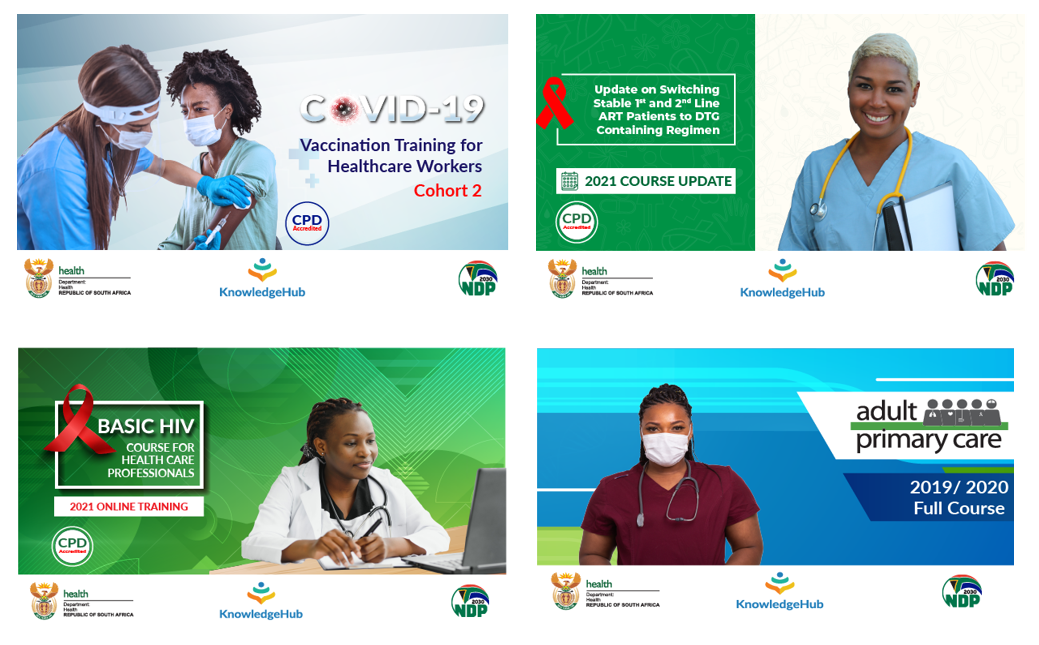 Services
Developing and aggregating content for course, curriculum and training materials development; working in multiple media including print, video, audio and online multimedia
Harnessing the use of open-source and proprietary ICT systems to develop online portals, specialising particularly in content development and management services
Developing the capacity of educators to harness technology effectively to design and implement effective educational courses and programmes